One of my Japanese English language students, who loves to discuss food, suggested this dish to me as a good entry point into experiencing the art of Japanese cuisine. The resulting flavour combination of the omurice (Japanese Rice Omelette) was so good. It seems that the normal way to present the dish is to lay out the omelette over the rice mix and tuck the sides in. However, I favour this approach, as it shows the delicious rice mix off to its best. I was told later that this is really a child´s dish, but it´s so tasty, everyone will enjoy it!
Not being a huge fan of shop-bought ketchup, I made my own, slightly spicy version. I thought it tasted a lot fresher and a great deal more tomato-like than the shop-bought alternative. It goes really well with quite a broad selection of food types and works equally well as a tomato salsa.
Ingredients (serves 4)
a large glug of olive oil
1 chicken breast, sliced into 1 cm cubes.
1 onion, finely chopped
1 carrot, peeled and diced
500 ml chicken stock
200 g long-grain rice
2 tbsp (home-made) ketchup, plus more for serving
2 tsp soy sauce
100 g frozen peas
100 g tinned sweetcorn
4 eggs
4 dashes of milk
100 g grated cheese (Cheddar or similar)
Method
Rice Mix
Fry the chicken in a large pan in oil over medium heat until browned on all sides, then lay to one side.
Add another healthy glug of olive oil, scrape the pan bottom then add the onions and carrot and fry for 5-7 minutes, until the onions are starting to turn a little brown at the edges.
Turn up the heat a little, add the chicken stock and rice and cook for a further 10 minutes or so. It should be cooked but still a little crunchy.
Stir in the peas and sweetcorn, then add the chicken and give it all a good stir. Season well then place to one side, with the lid on to keep it warm.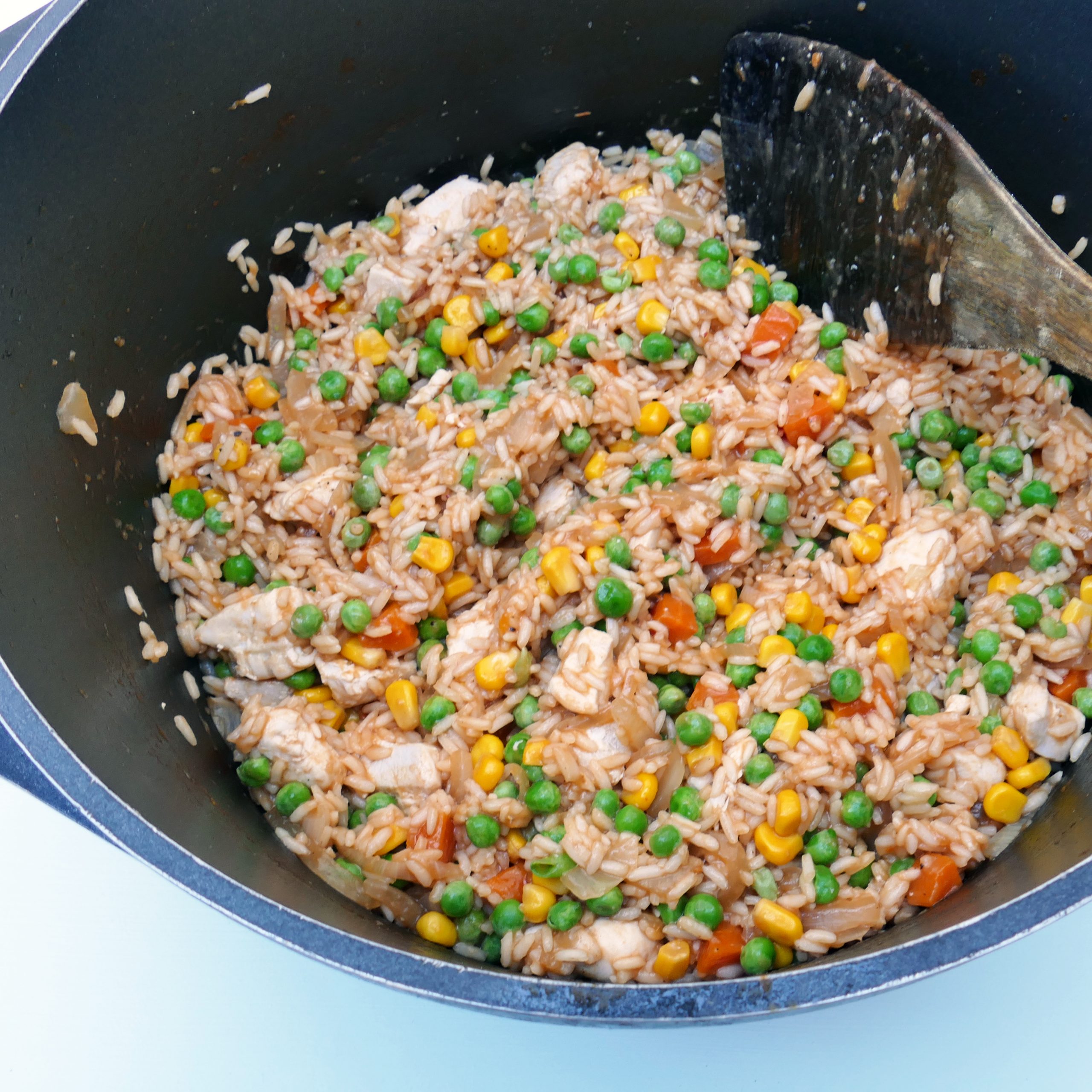 Omelettes
Add a small glug of olive oil to a small, non-stick pan then place on a very low heat.
Using a fork, whisk an egg with a dash of milk until blended, then season well and mix again.
Add the mix to the pan and swirl around the pan, ensuring the entire base is covered. Sprinkle the cheese over the egg mix.
Stir the mix a few times until small clumps of mix appear, then allow to cook until most of the mix has set. I usually prefer omelettes to be slightly runny, but for the omurice they need to be fully set.
If necessary, loosen up the edges of the omelette with a plastic spatula, lay the omelette to one side on a flat plate and cover with kitchen foil.
Do the same with the remainder of the omelettes
. Place a healthy quantity of the rice mix on one half of each omelette, then carefully fold over the remaining half.
Apply the ketchup/salsa, either in a fancy pattern or along one side.
Try this spicy tomato salsa alternative to shop-bought ketchup.
Enjoy your Omurice (Japanese Rice Omelette)!