The idea for this post came as a result of thinking about a pairing with a dish to be published in a future post, "Omurice" (Japanese Rice Omelette). There are some dishes that just cannot be eaten without ketchup or an alternative. For example, I really like spicy tomato salsa (ketchup) with scrambled eggs and bacon, but when it comes to sausage or bacon rolls, it has to be what I would call the "King of Sauces", HP!
Having seen that the Omurice recipe requires ketchup, both as a garnish and also as part of the rice ingredients, I thought I would take a stab at making some tomato salsa of my own. Luckily it turned out fine, so I´ve shared the ingredients and method with you below.
Ingredients
a good glug of olive oil
1 onion, finely chopped
2 garlic cloves, minced
50 g brown sugar
1/2 tsp smoky chipotle paste
1/2 tsp cinnamon (or all-spice, if you have it)
60 g white wine vinegar
60 g tomato purée
2 x 390 g tins of chopped tomatoes
Method
Heat the oil in a saucepan. Add the onion and garlic and fry over a low heat for 2 minutes, stirring occasionally.
Add the garlic, stir and fry for a further 5 minutes or so, until the onions are softened.
Stir in the brown sugar, smoky chipotle paste and cinnamon, and fry for a couple of minutes more, until the sugar has melted completely.
Add the white wine vinegar and tomato purée and cook for an additional 3 minutes.
Stir in the chopped tomatoes and cook for a further 20 minutes, stirring occasionally, until the mix thickens.
Taste the mix, adjusting where necessary, then season well.
Allow the mix to cool slightly, then either transfer to a food blender or blend with a handheld blender. I prefer to use a fairly thick mix, but, if necessary, you could thin it slightly by adding 200 ml of chicken stock and stirring it in well.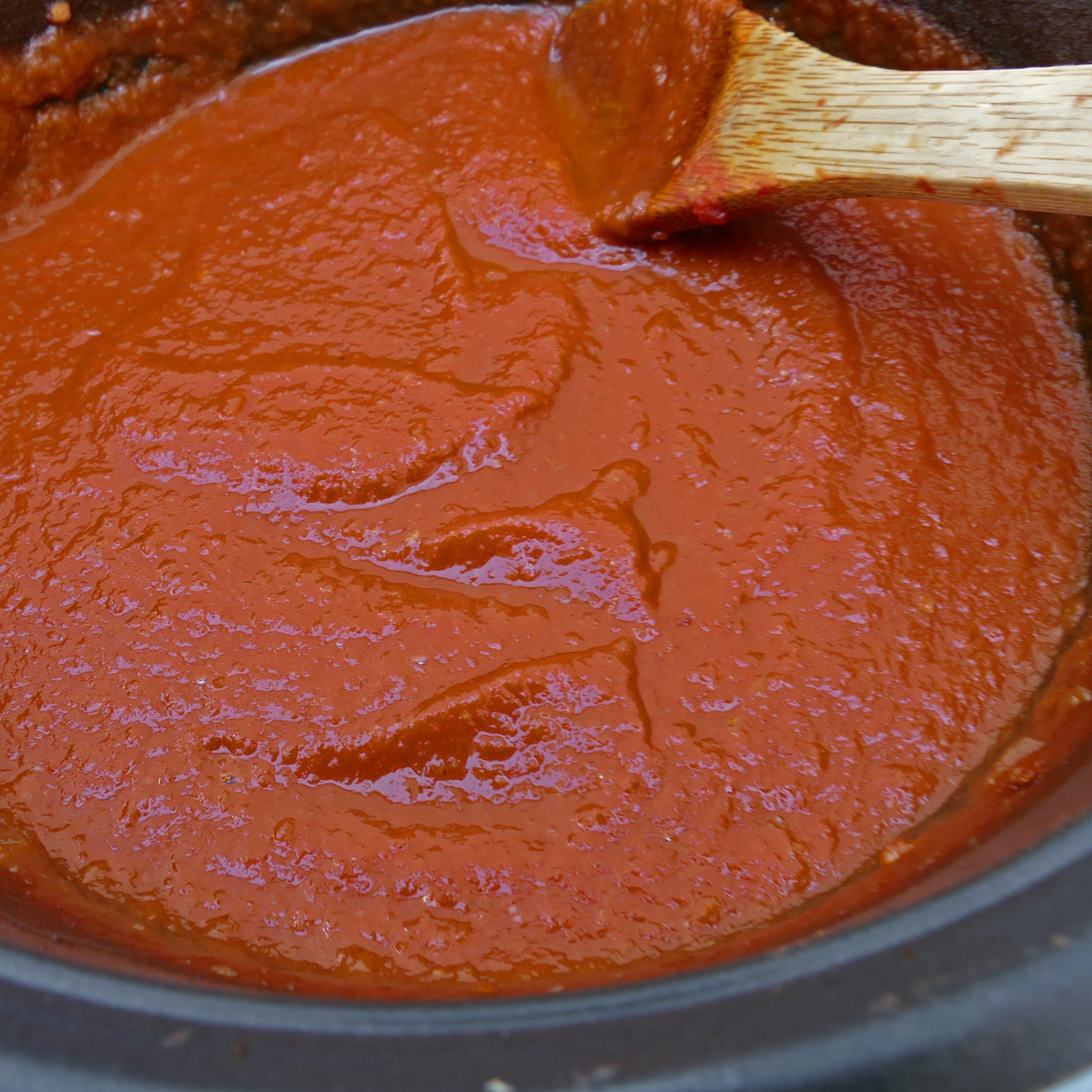 With a home-made spicy tomato salsa (ketchup), you get not only a hugely improved taste, but an additive-free accompaniment to your meals.
This salsa goes perfectly with the sausage and caramelised red onion quiche recipe here.
Enjoy!