Who doesn´t love one of France´s signature dishes, moules frites? Hot, steaming mussels, accompanied by delicious French fries! Personally, I prefer moules Provençal to the more popular moules marinière, as I´m a huge fan of Mediterranean flavours.
When my wife and I took summer holidays in various regions of France for five consecutive years, we would often eat moules frites at local restaurants. However, many years later when we were in Vannes, we stopped at a café for a meal and I decided to try something a little different and changed my normal choice from mariniére to Provençal. I then realised what I had been missing all those years, and I changed my favourite mussel recipe.
Here is my take on that wonderful dish. It´s a really simple one that can be altered in so many ways, by adding herbs at the last minute, or using red wine instead of white. I´ve even seen recipes that include anchovies and olives. It´s your choice.
Ingredients (serves 4)
2 kg mussels, washed and cleaned (see below)
1 large onion, sliced thinly
4 large cloves garlic, finely chopped
1 820 g tin of chopped tomatoes
200 g tomato paste
100 ml fish stock
50 ml white wine
Cleaning the Mussels
Clean the mussels, if not already cleaned. Beware that they may be marked as already cleaned, but if the beards still remain, they still have to be removed first. This is a time-consuming process, but, remembering all too well the after-effects of having eaten uncleaned mussels at a restaurant before, it simply has to be done.
Place the mussels in a large bowl filled with cold water.
Remove any that are open (even a small amount). For each mussel, scrub all the surfaces with a brush to remove any surface gunk then remove the "beard" (the hairy bit that comes out of the flatter side of the shell). Place the mussel into a separate bowl filled with cold water.
When all of the mussels have been cleaned in this way, check again and discard any that are open.
Empty the bowl then rinse the mussels under a running tap.
Method
Fry the onion in a large pan on a low heat for 5 minutes.
Add the garlic and fry for a further 5 minutes.
Add the tomatoes and tomato paste, fish stock and wine. Season well.
Bring the pan to the boil then simmer for 10 minutes. If you´re not that keen on too much liquid, you could simmer it for double the time in order to reduce it further.
Add the mussels to the mix and stir well. Cook for a further 5 – 8 minutes, until the mussels have opened.
Serve with French fries or warm crusty bread (for mopping up that delicious sauce) and a finger bowl.
If you come across any mussels that haven´t opened, discard them.
I like to find a smallish mussel first, eat it then use the shell for extracting all the others from their shells.
If you´re not making slurping noises when eating, then you´re not doing it right! Enjoy!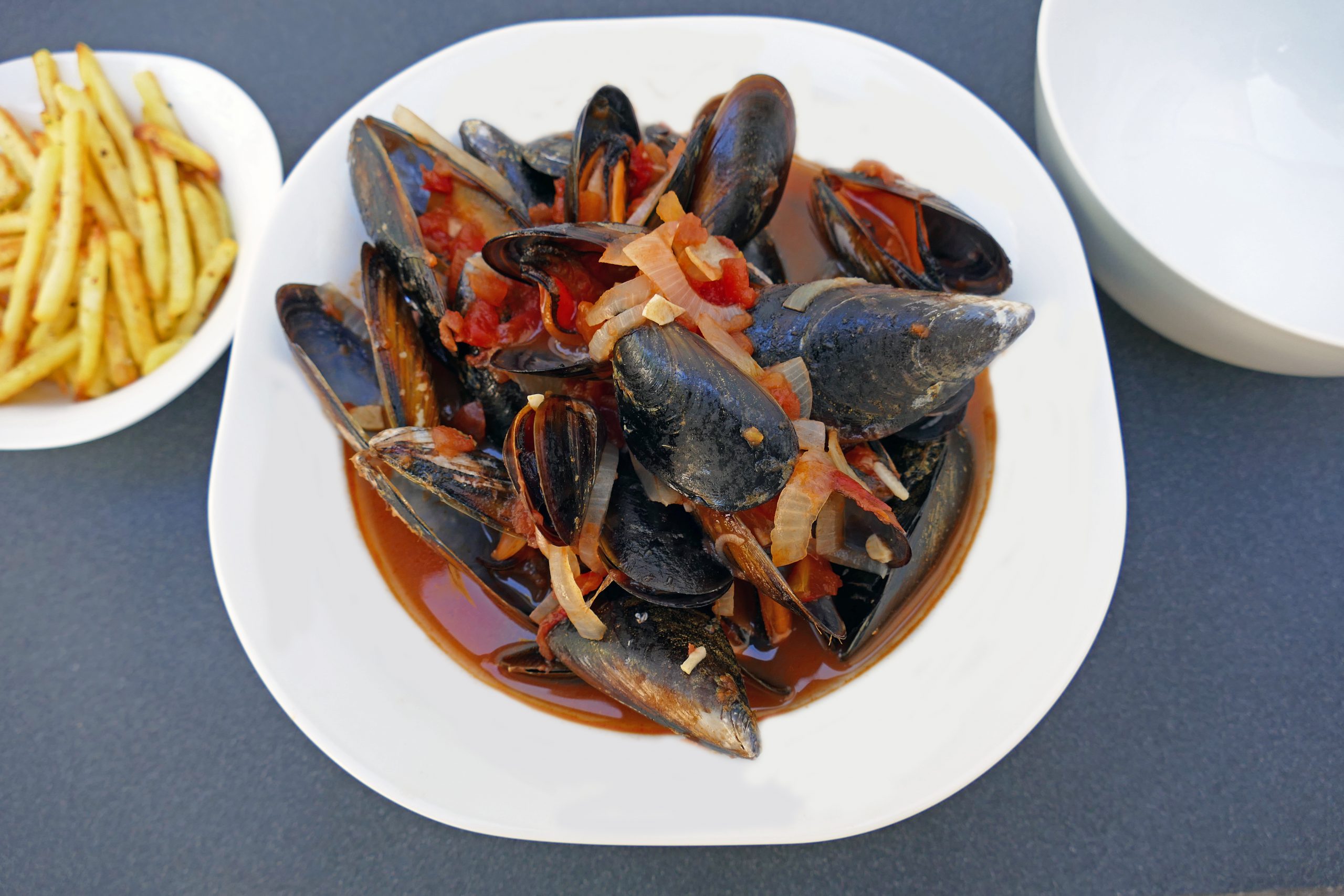 If you like this moules Provençal dish, why not take a look at my smoked hake kedgeree recipe?