The flavours in this smoked hake kedgeree dish go so well together. Be patient when cooking the rice, as you´re looking for a creamy consistency. This is simply one of my favourite fish meals of all times!
If you enjoy this recipe, why not try our creamy smoked salmon pasta recipe. Hopefully you´ll give that one a thumbs up too!
Ingredients (serves a hungry 2)

A good glug of olive oil
1 medium onion, finely chopped
¼ tsp turmeric
½ tsp cumin
200 g basmati rice
500 ml litre chicken stock (creamy stock if you can find it)
100g frozen peas, thawed
400 g smoked (preferably home-smoked) hake or haddock fillet, flaked
2 eggs, boiled and chopped
1 lemon, cut into wedges, for garnish
200 g fine, green asparagus spears, chopped
Parmesan shavings
Method
If you are hot-smoking the fish yourself, do so for about 10 minutes (lightly smoke it, as it will be cooked a little more later).
Pour a hefty glug of olive oil into a large saucepan, then add the onion, stir and cook over a medium heat for 5 minutes until softened.
Mix in the turmeric and cumin and cook for a further 2 minutes.
Add the rice and stir well until it is all coated in the oil mix.
Add the chicken stock, a pinch of salt and bring to the boil. Stir briefly, then cover and reduce the heat to low. Allow to cook very gently for 15 minutes, or until the mixture becomes creamy.
If you are using fish already smoked, boil some water in a large frying pan, add the fish and simmer for 3-5 minutes, until the fish is just cooked. Lift it out onto a plate and leave until cool enough to handle.
Hard-boil the eggs for 10 minutes then immediately cool them in cold running water for 30 seconds.
Flake the fish, discarding any skin and bones.
Peel and chop the eggs.
Gently mix the peas and fish into the rice mix, replace the cover and cook on low for 2-3 minutes.
Give a final gentle stir and serve.
Garnish with asparagus, egg and parmesan.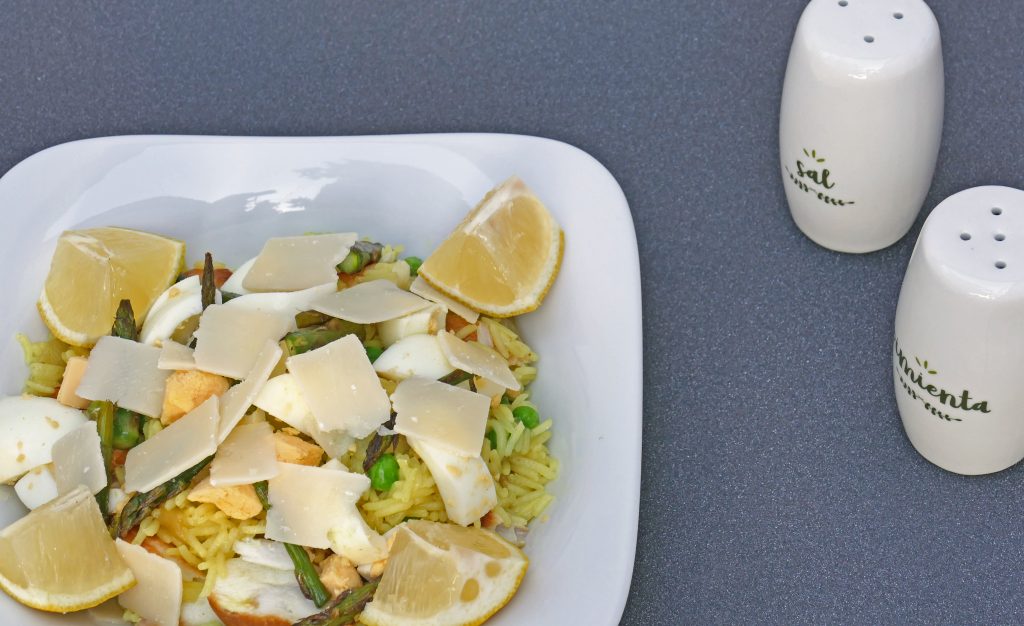 I hope you enjoy the recipe. This meal will be making a regular appearance on our dinner table!