Hummus, served with freshly-baked  pitta ticks all the boxes for me. It is simply delicious, good for you, and can be served as either a snack or a complete meal (with  fresh vegetables). If you include the fact that it´s vegetarian, what´s not to like?
It is a little time-consuming to make, but if you make a large batch in one go, you can separately vacuum-pack the unused hummus and pitta in meal-size  amounts and freeze them. Once thawed, the hummus just needs a good stir and the pitta can be popped into the oven to warm it up.
You can make the pitta with white (bread) flour, but for me, adding wholewheat flour gives it a slightly stronger, fuller flavour.
Note: you will need to start this process at least 36 hours before eating.
Ingredients
Hummus
(Makes about 2.4 kg)
800g dried chickpeas  (garbanzos)
500 ml cooking liquid from the chickpeas (alternatively use vegetable stock if you forget to keep the cooking liquid, as I sometimes do!)
juice from 2 lemons
4 cloves garlic, finely grated
1.5 tbsp salt
0.5 tsp ground cumin
300 g tahini paste (plus some for serving as optional)
paprika (optional, for serving)
selection of fresh vegetables (optional, for dipping)
Pitta
60 g plus 240 g warm water
4 – 5 g dry yeast
2 tsp granulated sugar
6 egg whites
2 tbsp salt
2 – 3 tbsp local honey
750 g white/bread flour
150 g wholewheat flour
100 g olive oil (plus a little more if necessary, to ensure the correct consistency)
50 g vegetable oil
Method
Hummus
The evening before, place the chickpeas in a  large bowl and cover with water. Ensure there is plenty of spare water as the chickpeas soak it up like crazy. Allow to soak overnight (about 8 hours)
Drain the chickpeas and give them a  good rinse. Place them in a large pot and cover with water. Add a pinch of salt and a glug of olive oil. Bring to the boil then turn down the heat and simmer for an hour.
When cooked, allow to cool partially. Drain  and place the reserved cooking liquid to one side.
Place the chickpeas  in a large bowl, then add the lemon juice, garlic, salt and cumin. Mix well then add the required volume of reserved cooking liquid/vegetable stock to the mix.
Give the mix a really good blend Some recipes recommend using a stand blender, but I prefer to use a hand blender, as I find that the chickpeas just get stuck in the bowl of a stand blender. Ensure you remove any lumps. When the mix is well blended and slightly aerated, add the tahini paste and give it another mix for  about a minute.
When cooled, serve. If you like, garnish with tahini paste and/or paprika.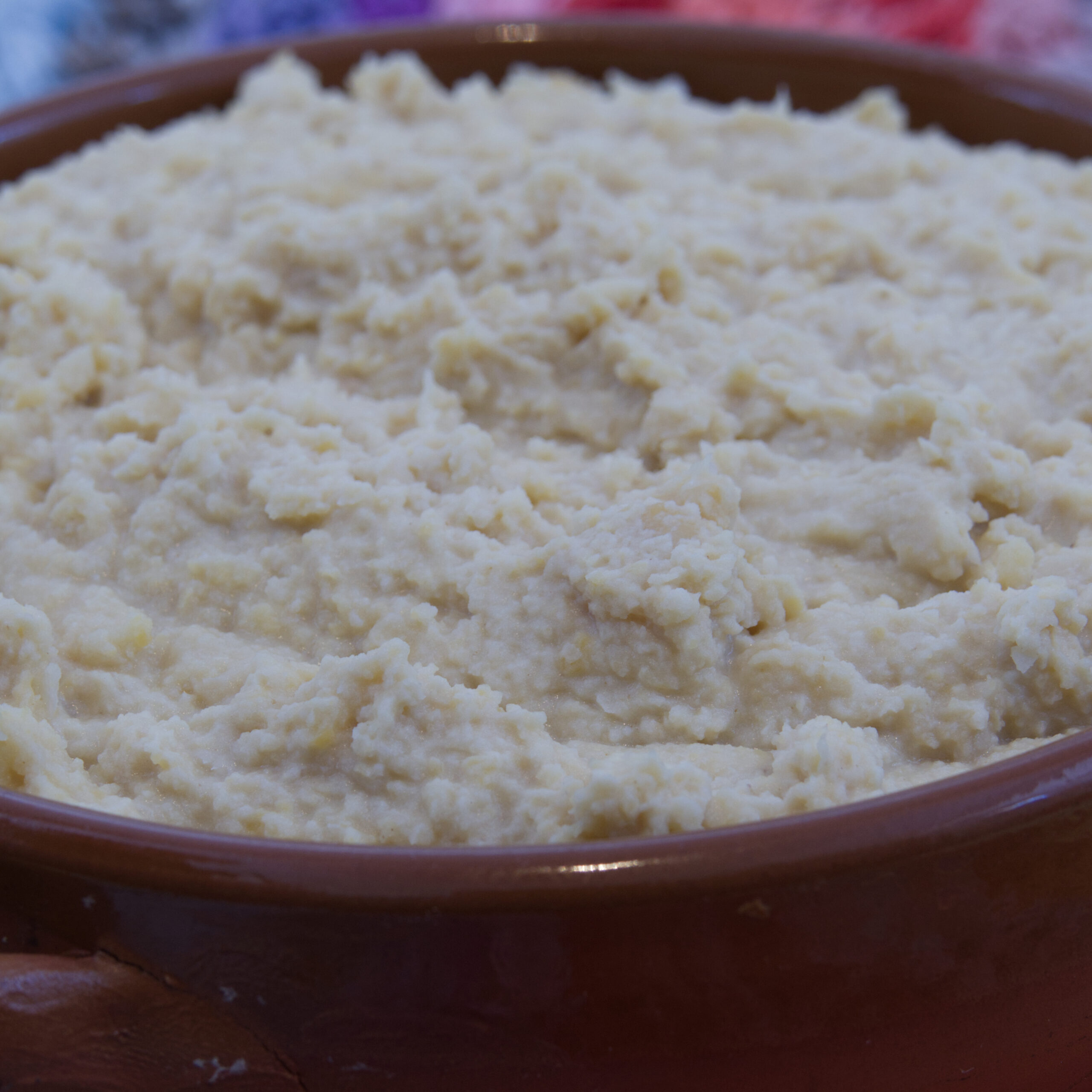 Pitta
(Makes 12 – 14 pittas)
To start the yeast, place 60 g of the water, yeast and sugar in a bowl and whisk together. Allow to sit for 15 – 20 minutes, until bubbles appear in the mix.
Fix the dough hook attachment to a stand mixer, then add the remaining water, egg whites, salt and honey. Start to mix on low, then slowly add the white and wholewheat flour. Scrape down the sides of the bowl occasionally, if necessary.
When fully mixed, add the olive oil then the vegetable oil very slowly (over about 2.5 – 3 minutes). Continue mixing for 10 minutes. If the dough feels a little dry, add a small glug of olive oil then mix for another couple of minutes.
Cover the mixing bowl with a tea towel and allow to rest for 1 – 2 hours. The mix should rise slightly, but not significantly.
Place the dough ball on a floured surface, then divide into 100 g pieces.
Roll each piece of dough into a ball and place on floured oven trays, cover with clingfilm and place in the fridge for 48 hours.
When ready, preheat the oven to 250 °C and place a large pizza stone in the oven to heat up. Remove the dough from the fridge and allow to rest at room temperature for at least 30 minutes.
When the oven is ready, roll a ball of dough to about 1/2 cm thickness. Ensure both sides of the dough are lightly dusted with flour, then place the dough on the pizza stone. A pizza "spade" is useful for this.
Bake for 4 – 5 minutes, until the top and bottom separate and the dough has started to turn brown.
Repeat for each piece of dough. Plate up and serve with hummus and optional garnishes.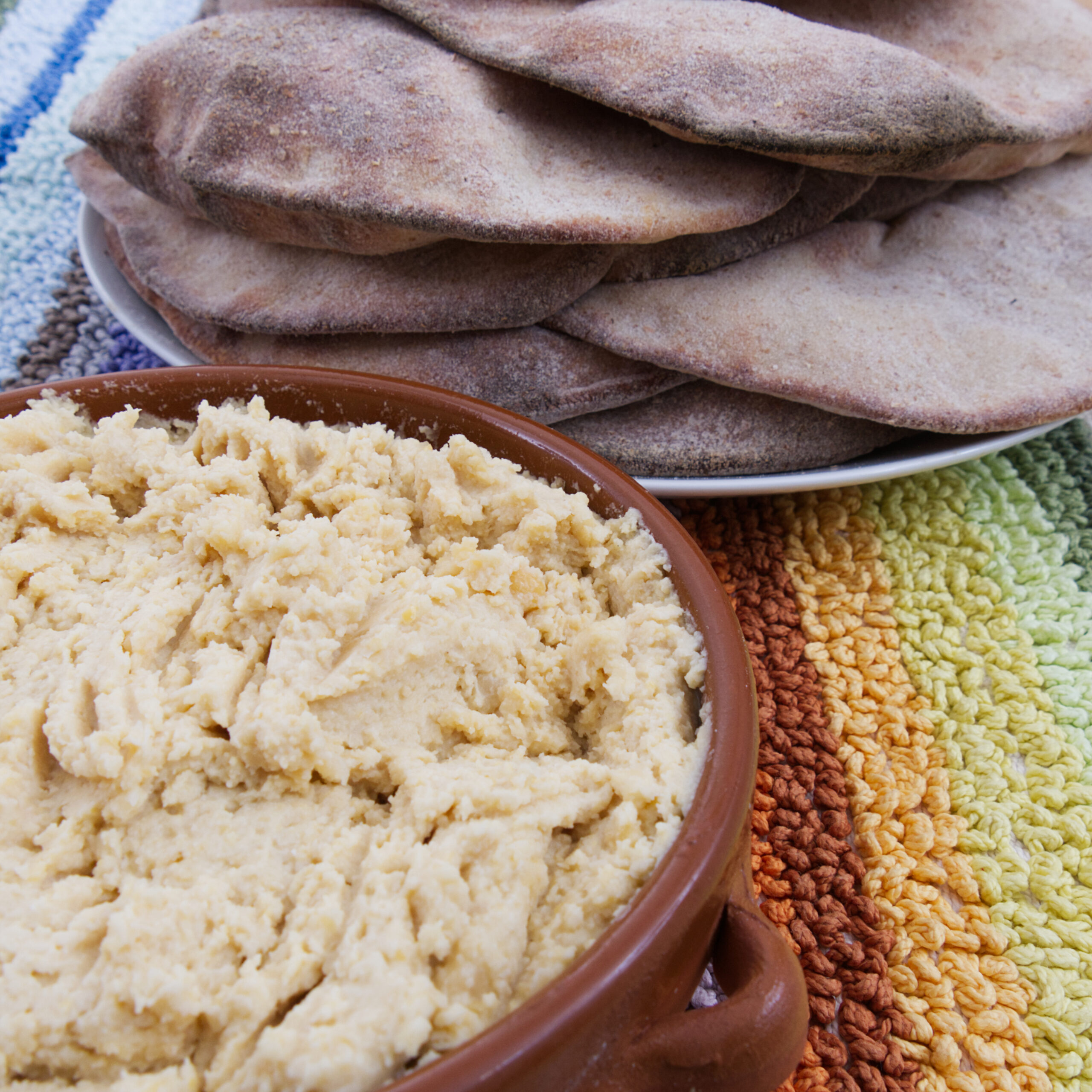 Any leftovers (if there are any!) can be vacuum-packed, sealed and frozen. When taken from the freezer, simply defrost at room temperature, give the tahini a stir and warm up the pittas for a couple of minutes until they soften slightly.
Enjoy!
If you like this vegetarian recipe, why not try my Creamy Spinach and Parmesan Baked Potatoes recipe?