In my last post I showed you how easy it is to make your own Cornflour Tagliatelle, which has so much more flavour than shop-bought. In this post, Cornflour Pasta with Creamy Spinach and Bacon, I´m using some of that pasta accompanied by a simple but extremely tasty sauce.
Ingredients (serves 2)
200 g bacon bits
1 large spring onion, chopped
200 g frozen spinach, thawed
Italian herbs
175 ml cooking cream
3 large handfuls of dried cornflour tagliatelli
Method
Fry the bacon bits in a small glug of oil until they start to brown
Remove the bacon and scrape the base of the pan to remove any burned bacon pieces. Add a large glug of oil and the onions. Stir well.
Fry the onions for 5 – 10 minutes until they soften and start to colour.
Add the spinach, a good shake of Italian herbs and the cream.
Turn down the heat and cook gently for a further 5 minutes.
In the meantime, boil the pasta for 3-4 minutes until it is al dente.
Serve with Parmiggiano (and Extra Virgin olive oil, according to taste)
Enjoy!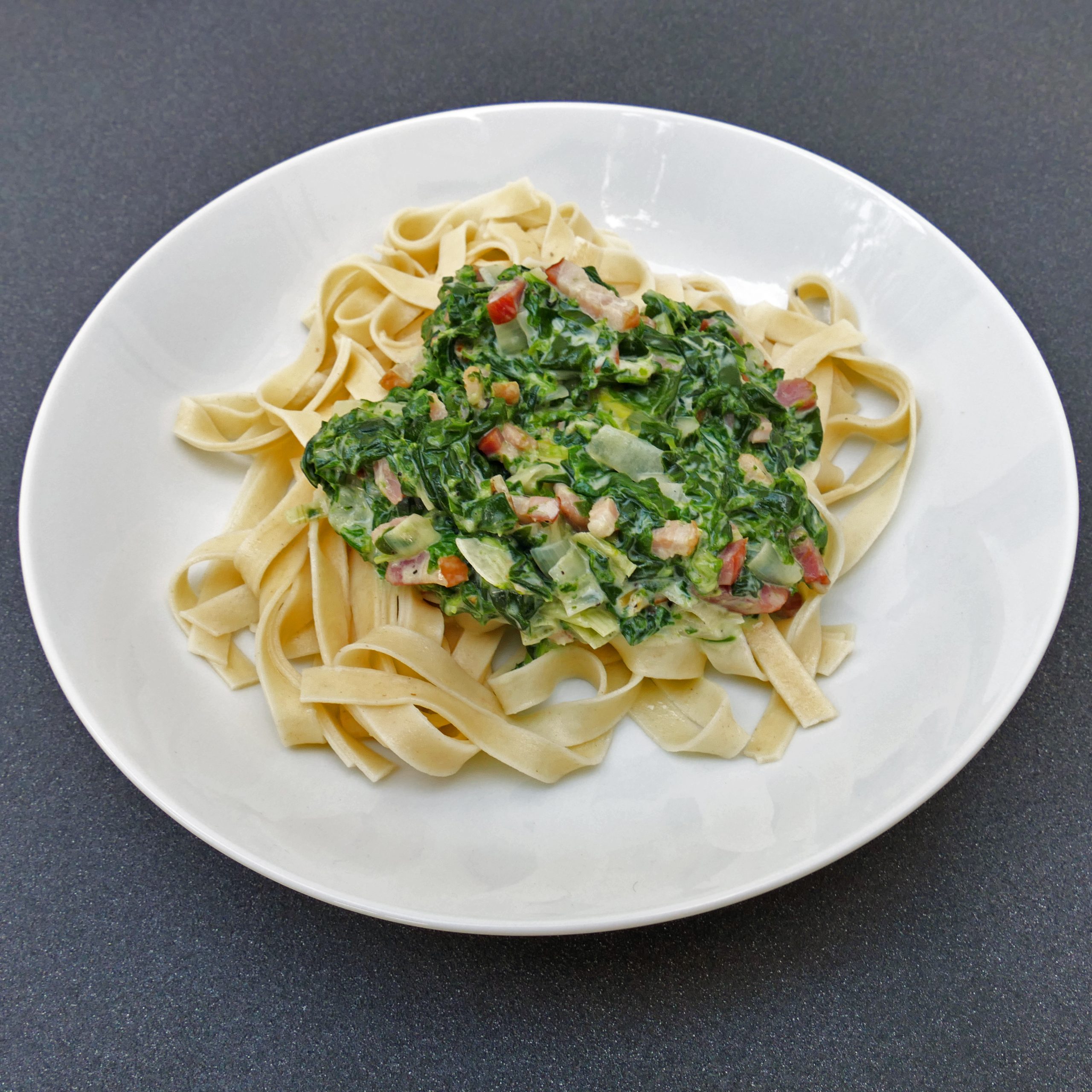 Home-made pasta with a sauce using five simple ingredients. You just cannot beat it! I´m a great fan of pasta with all types of sauce, so in future posts I will be sharing a few tomato-based pasta dishes that I´ve been making for a long, long time.
If you liked this Cornflour pasta with creamy spinach and bacon dish, why not try my Creamy Smoked Salmon Pasta recipe.