A few years ago, as I was idly leafing through some cookbooks, my interest was piqued by a Moroccan recipe. As we lived in the south of Spain, and no more than three hours from the coast where a ferry can be caught for Morocco, I assumed it would be easy to find a store that would sell me Moroccan food and cooking pots, so I started looking for a tagine and some spices. I finished up buying the spices in a British supermarket on one of my trips to visit family in the UK, and it took me two years to find a tagine in a Spanish department store. Armed with a tagine and some new spices, I started down the culinary road of North African cuisine, got hooked and haven´t looked back since. Spiced chicken tagine is a recipe fairly typical of this region.
My favourite spice mix of all is Ras el Hanout a superbly aromatic and intense combination of flavours. I have seen recipes from between 8 and 20-odd ingredients for this mix, so I guess everyone has their own combination. As I´ve been lucky enough to find a mix that´s perfect for me, I´ve just listed the ingredients mentioned on the tin. Please feel free to come up with your own quantities, add to or deduct from the spices (where can you find rose petals, anway?).
Ras el Hanout Ingredients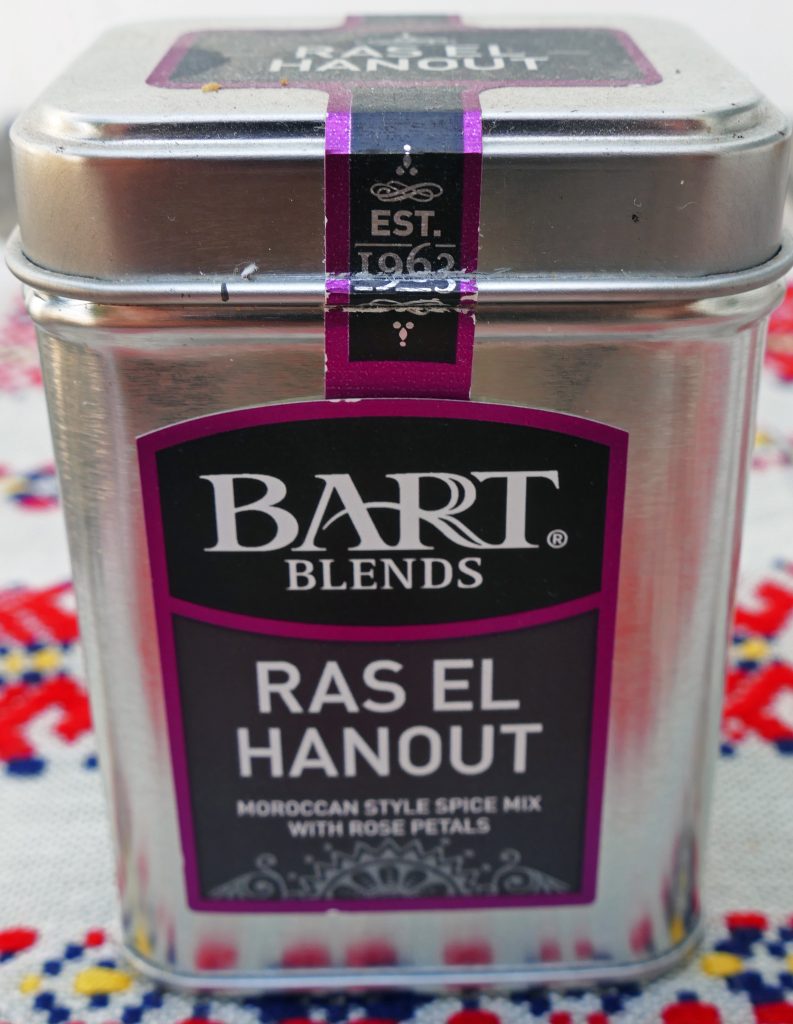 Black Pepper
Coriander
Ginger
Paprika
Allspice
Cardamon
Mace
Nutmeg
Turmeric
Cayenne
Cloves
Rose Petals
Mustard
Quantities change from recipe to recipe, so I´ve no idea what they are in my shop-bought version, but I´d be really interested to hear from anyone who has their own recipe for Ras el Hanout.
Ingredients (Serves 4)
600 g chicken fillets
90 g plain flour
1 large onion, halved and sliced thinly
3 garlic cloves, finely chopped
20 g Ras el Hanout
425 g tin of chopped tomatoes
100 ml chicken stock (I used 200 ml and it was too wet)
a few cherry tomatoes and a few pitted black olives
a small handful of currants
a few thin slices of preserved lemon
Some of the above ingredients were not my initial choice. It goes to show that you need to be prepared to substitute, where necessary.
Possible Substitutions
Most recipes seem to state green olives, but I had none, so black olives were used instead.
I would have preferred dried apricots to the preserved lemon, and possibly dried prunes to the currents.
This recipe calls for a tagine, but a decent sized casserole dish can also be used. I just like the flamboyance of using a tagine!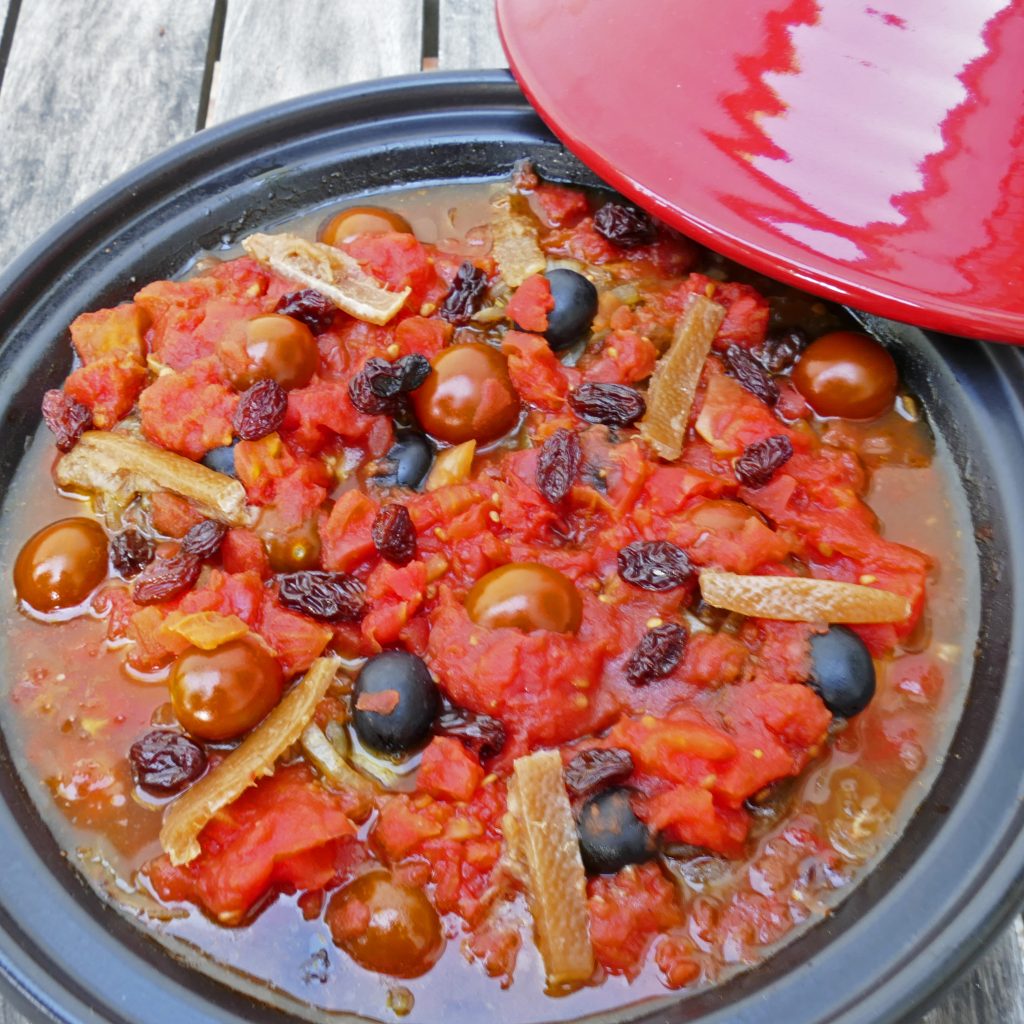 Method
Set the oven to 180°. A tagine will most likely have to be placed on the lowest tray.
Roll the chicken pieces in flour, then brown in a hot pan with a little olive oil or ghee. Lay aside.
Chop the onions and garlic, then fry the onions for 5 minutes.
Add the garlic and Ras el Hanout, mix well and continue frying for a further 5 minutes.
Arrange the chicken in the base of the tagine, place the onions and garlic on top, then the chopped tomatoes.
Add the chicken stock, followed by the cherry tomatoes, olives, currants and preserved lemon.
Pop in the oven for 30 minutes.
Serve with a small sprinkling of slivered almonds, with plain buttery cous cous or Moroccan cous cous.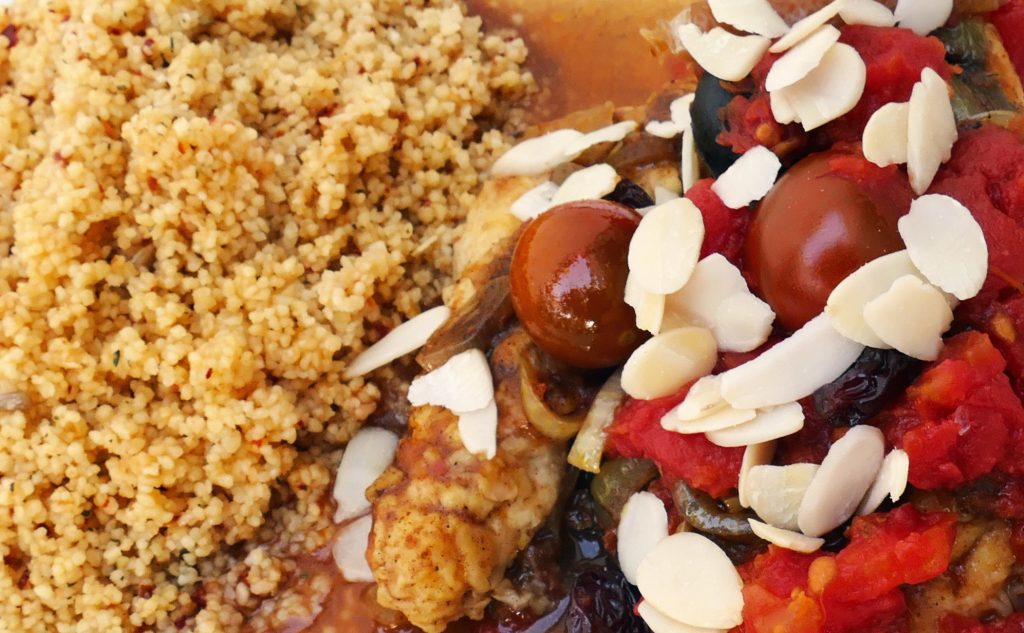 Enjoy! If you like this dish, you could also try my gazpacho recipe. It is a garlic-flavoured wonder!