Russian Salad (or Ensaladilla Rusa) is served at cafés and restaurants throughout Spain. It was also very popular in the Netherlands when I lived there. There are many different recipes for this wonderful salad and it´s a flexible recipe, so feel free to add, remove or replace ingredients as you wish.
For me, though, an absolutely "must-have" ingredient is canned tuna, and lots of it! Luckily, you can buy it almost anywhere in Spain, and in large tins too. The Spanish do love their tuna!
Ingredients (serves 6-8  as a side-dish or as tapas)
1 kg potatoes, peeled, boiled and diced
0.5 kg carrots, peeled, blanched and diced
350 g tin green beans, sliced into 1.5 cm pieces
2 eggs (hard-boiled)
500 g tin tuna (in oil or brine)
0.25 kg frozen peas, defrosted
half a large spring onion, sliced and diced
3 – 4 tbsp mayonnaise
0.5 tsp paprika (optional)
Method
Peel the potatoes and add them to a pot of cold water, together with a pinch of salt. Bring to the boil and cook (covered) until just tender (about 10 minutes). Don´t over-boil, or you´ll finish up with tuna mash! Drain and put aside to cool.
Peel the carrots and add them to a pot of cold water. Bring to the boil and cook for 3 minutes. Drain and put to one side.
If you have substituted tinned beans with fresh one, boil until just soft (but not mushy). Otherwise open the tin, drain and slice.
Hard-boil the eggs (about 10 minutes) then drain and put aside.
Drain the tuna and flake it with a fork.
When cool, chop all of the cooked ingredients and place in a large mixing bowl.
Add the tinned beans, peas, eggs, onion and tuna flakes, then mix well.
Add seasoning and paprika to your taste and mix again. This is a large batch, so you may need to do this a few times, but don´t add too much at a time.
This Russian salad recipe is for a moist, but chunky salad. If you prefer a smoother recipe, chop the ingredients smaller and add a little more mayonnaise.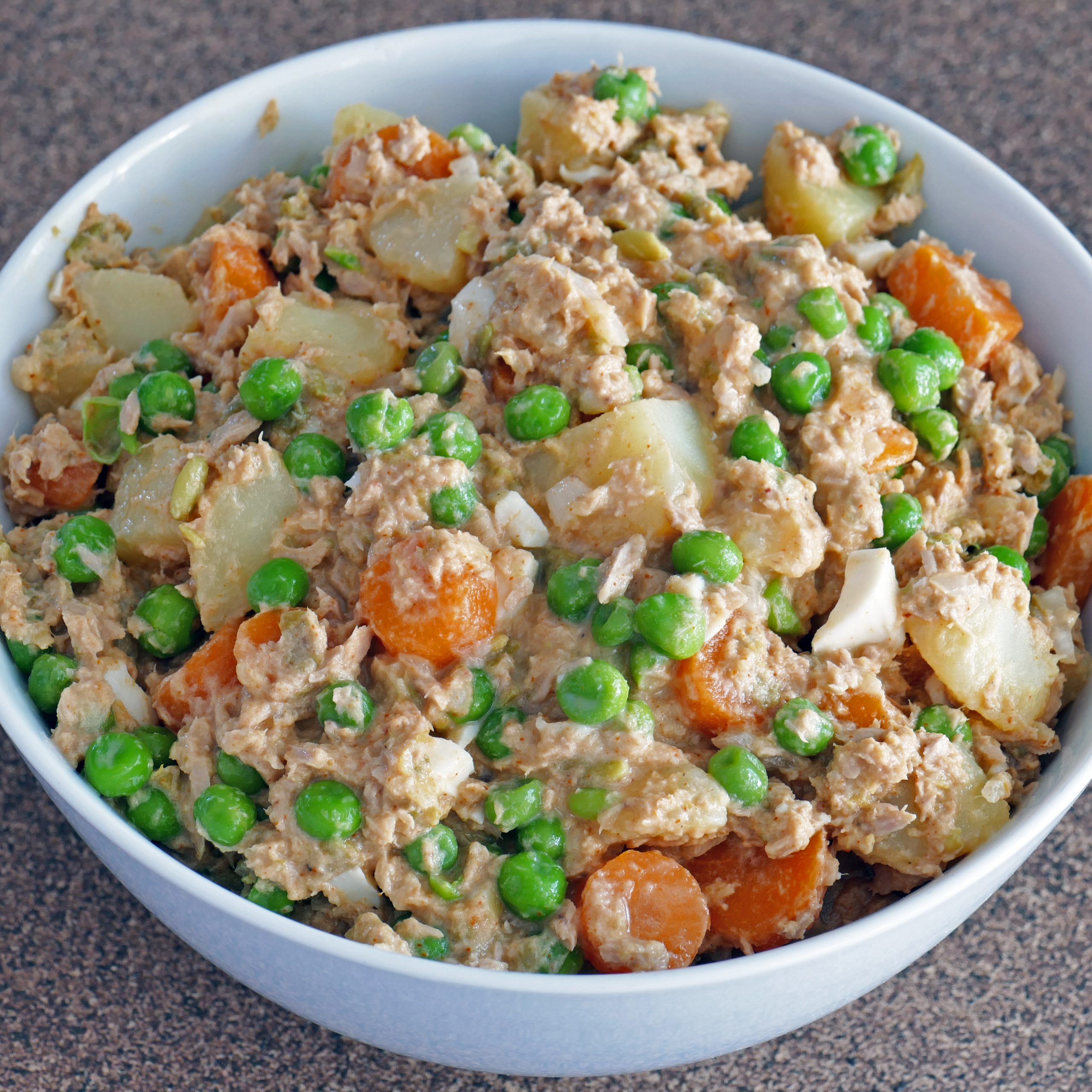 This salad goes well with cold meat,  or can be used (as in Spain) as a tapas. Enjoy!
Check out our other tapas recipes.